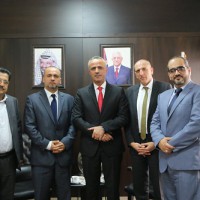 Ramallah, October 25th of 2018 A delegation from the Birzeit University on Thursday, met HE Ali Abu Diak, Minister of Justice. The delegation included Professor Asem Khalil, Vice President for Community Affairs, and Acting Director of the Institute of Law, and colleagues Dr. Mustafa Mari, Mr. Ahmed Nasra and Dr. Rashad Twam.
Participants discussed means of strengthening and upgrading cooperation and joint action between the Ministry of Justice and Birzeit University in areas of mutual interest, including the field of harmonization of legislation, benefiting from the legal expertise accumulated at the University. The accession of the State of Palestine to dozens of international conventions, without reservation, makes it necessary to examine Palestinian national legislation, to ensure compatibility with Palestine's international undertakings.
The Minister of Justice also gave a brief explanation of the report of the Presidential Commission for the Development of the Judiciary, which submitted its recommendations to the President, in order to develop the judicial system, and to ensure the independence of the judiciary and citizen access to justice.
Participants praised the legislative drafting expertise of the Institute of Law, including the preparation of relevant manuals, the first being the legislative drafting manual in 2000.
It is worth mentioning that the national team which has developed the most recent version of the legislative drafting manual (earlier in 2018), has relied heavily in the preparation of the new version, on its first version, prepared over a decade ago, by the Institute of Law, in partnership with the Office of Fatwa and Legislation and the Palestinian Legislative Council.
In conclusion, Dr. Asem Khalil thanked the Minister of Justice for his warm hospitality, and praised the close cooperation with the Ministry of Justice in various legal fields, stressing the readiness of the University and the Institute of Law in particular, for further cooperation in the harmonization of national legislation and in the area of legislation development in general.